ZEPHYRHILLS FLORIDA REAL ESTATE AND HOMES FOR SALE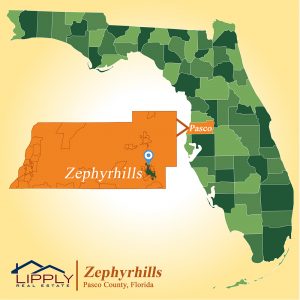 The home of pure water, Zephyrhills is located in east Pasco County just north of the vibrant city of Tampa. Zephyrhills is a semi-rural town which offers a variety of fun activities which include, fishing, sky diving, and golfing. Move to Zephyrhills today to visit one of the many local farms and cattle ranches which produce amazing fresh produce everyday. Feeling adventurous? Zephyrhills is a premier location for skydivers all around the globe. Visit Skydive City located in Zephyrhills to experience the rush of free falling at one of the world' best drop locations. After a nice thrill, stroll through the scenic downtown area to soak in the beautiful rural environment and grab a meal at amazing local restaurants. Spend the day on the boat when you move to Zephyrhills because there are innumerable lakes and rivers which provide amazing fishing locations.
REAL ESTATE IN ZEPHYRHILLS
Move to Zephyrhills today to indulge in this beautiful rural environment, that in spite its rural features still keeps you close to the action in the greater Tampa Bay area. Zephyrhills offers a range of housing options from very affordable mobile homes in retirement communities to luxury properties, many with acres of land. Give Lipply Real Estate a call if you are thinking about buying or selling a home in this area. Even though our main office is in Palm Harbor, we have agents all around the Tampa Bay area to serve our north and east Pasco County customers. Call, email or chat – agents are on call waiting to speak with you!
Active Listings for Sale in Zephyrhills
October 1, 2023
Current Market Statistics for Zephyrhills