TARPON SPRINGS FLORIDA REAL ESTATE FOR SALE
subdivisions | homes under $500K | homes over $500K | condos | overview | beach & park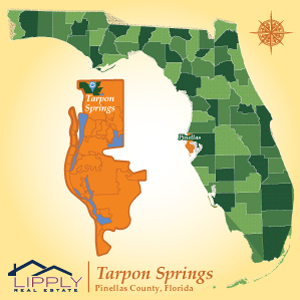 Tarpon Springs is one of the northernmost towns in Pinellas County and is set along the Anclote River and the Gulf of Mexico an extends east into the East Lake area. Areas such as Clearwater and Palm Harbor are just a few miles south, while Pasco County's neighboring cities are found just north of this historical town. With larger cities such as Tampa, Clearwater and St. Petersburg still within commuting distance, Tarpon Springs is very appealing for homebuyers. Even though there is so much to enjoy in the Tarpon Springs area, you can still enjoy a weekend getaway to Orlando, only 90 minutes away. If you are thinking about moving to Tarpon Springs you will have your choice of many different real estate opportunities such as gulf front, lakefront, luxury and affordable homes, condos, and townhomes.
Active Listings in Tarpon Springs
December 10, 2023
Subdivisions and Condo Communities in Tarpon Springs
Sponge Docks of Tarpon Springs
Tarpon Springs Greek heritage uniquely separates it from any place in the United States. This special flavor is an outgrowth of one of the state's most fascinating, one-of-a-kind industries – sponge fishing. The Pinellas County community has retained the atmosphere and traditions brought to us by Greek sponge divers at the beginning of the century through sponge diving and the biggest Epiphany celebration in the United States. The Sponge Docks visitors can eat authentic Greek food at more than 20 restaurants, shop, board cruise boats for day-trips, casino cruises or fishing trips, or visit authentic Greek clubs where men spend the afternoon telling stories and playing cards.
HISTORY OF TARPON SPRINGS
People have been drawn to Tarpon Springs throughout history, due in large part to the area's abundant rich natural resources. The town's enviable natural setting is strewn with life-supporting waterways, from the shores of the Gulf of Mexico to the sprinkling small bays and tidal hollows, to the framework of the Anclote River to the north and Lake Tarpon to the east. Listed as a National Historic District, the sponge docks are only a part of Tarpon Springs, Florida history. Incorporated in 1887, Tarpon Springs is the oldest city in the St. Petersburg/Clearwater area. Its downtown is also a historic district with more than 150 antique shops, art gallery/studios, boutiques and restaurants. While visiting the Sponge Docks you can enjoy a tour aboard a sponge boat and watch divers in amazement as they retrieve sponges from the Gulf of Mexico. See some of the most interesting sea life at the 120,000 gallon Coral Sea Aquarium and take a tour through the sponge museum to learn the history of the sponge industry. Deep sea fishing and cruises are also available weather permitting. For meals you can enjoy authentic Greek cuisine, seafood, and many other dishes in your choice of a casual or formal type atmosphere, and for dessert, freshly baked Greek pastries will tempt you. This thriving community also features a Performing Arts Center and Cultural Center and several annual events and festivals. Purchasing real estate in the Tarpon Springs area is a wise decision as it is a great place to live.
Current Market Statistics for Tarpon Springs