TARPON SPRINGS ANNUAL EVENTS
subdivisions | homes under $500K | homes over $500K | condos | overview | beach & park | events

ANNUAL EVENTS IN TARPON SPRINGS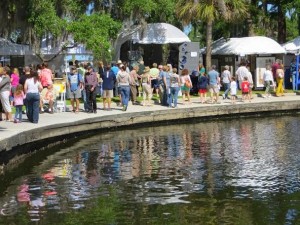 The Tarpon Springs Fine Arts Festival is held every year at the beautiful and historical Craig Park on the Spring Bayou. This event is one of the largest and most respected fine arts festivals in the United States. This popular festival has been enjoyed by many for over 30+ years and has grown enormous with hundreds of artists from around the United States presenting their exhibits. Whether you come with a friend or bring the whole family, there is something to enjoy for everyone. Besides the fine art, there are t-shirts, posters, and continuous entertainment throughout the entire weekend. Come soak up the sunshine while you stroll through this scenic park and enjoy some authentic Greek cuisine as well as other types of fare. Walk around the picturesque Spring Bayou and gaze at the homes, they are a sight to behold. Owning a home like this in Tarpon Springs offers unique architectural detail that can't be matched elsewhere in northern Pinellas County. During the winter months, manatees can often be seen in Spring Bayou. The art festival is an event that the Tarpon Springs community looks forward to each year and a cultural experience that should not be missed!
TARPON SPRINGS EPIPHANY CELEBRATION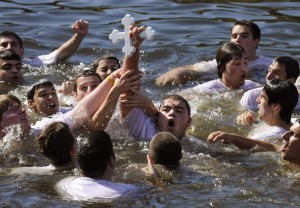 As you pass the courtyard of St. Nicholas Orthodox Church in downtown Tarpon Springs you won't help but notice a statue of a soaked young Epiphany diver gazing at the cross that he just retrieved from the Spring Bayou. The Epiphany celebration was brought to Tarpon Springs as many Greek men, primarily from the Dodecanese Islands, found work here diving for the abundance of natural sponges found in the area. In continuing this occupation, they brought their families and deep religious beliefs with them to Florida. Since the sponge industry has persevered, so has Tarpon Springs strong Greek heritage. Since 1920 brave young Greek-American males between the ages of 16 and 18 dive into the frigid waters of the Spring Bayou each January in hopes of retrieving the coveted Epiphany Cross. On this day, a Divine Liturgy begins the event followed by a procession to the bayou where the archbishop blesses the waters and casts the white Epiphany Cross into the bayou as a dove of the same color is released. Approximately fifty young men dive for their chance at what the local Tarpon Springs residents believe will ensure a year of good luck and blessing. The dive for the cross is the highlight of the day's events. Once a diver finds the cross the crowd applauds and cheers with happiness. The boy is then carried by the procession and is blessed at a short service back at the church. This event, held traditionally in Greece, has become just as famous in the Tarpon Springs area, and is attended by many families living Tarpon Springs and its surrounding areas.
Active Listings in Tarpon Springs
November 28, 2023
Subdivisions and Condo Communities in Tarpon Springs