TARPON SPRINGS FLORIDA BEACHES AND PARKS
subdivisions | homes under $500K | homes over $500K | condos | overview | beach & park

GULF BEACHES IN TARPON SPRINGS
FRED HOWARD PARK
Fred Howard Park in Tarpon Springs is either a short drive, bike ride, or even walk for any Tarpon Springs resident. It consists of 155 acres and is located on the Gulf of Mexico. Set back in the heart of Tarpon Springs, Fred Howard Park is a place where nature and wildlife is untouched. There is a 1 mile long causeway to get to the Gulf of Mexico. The causeway is used for sunbathing, fishing and exercising. There is also a launch ramp for personal watercraft on the causeway so jet skiers can enjoy Fred Howard Park from an ocean view. The white sandy beach is a favorite swim location and also provides one of the best area spots for visitors to take in incredible sunsets. Shells of all shapes and colors are plentiful here and make a walk down the beach a memorable one. There are a number of shelters in the park area to accommodate all types of groups and, of course, playgrounds to entertain your children. Fred Howard Park in Tarpon Springs steal your heart when you become a Tarpon Springs property owner.
SUNSET BEACH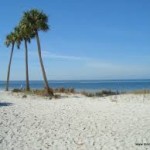 Sunset Beach in Tarpon Springs at the end of Gulf Road is a favorite with local residents for picnics, sunbathing, and even boat launching. It's small but very private and quiet and best of all free. It has picnic area with barbeque grills, bicycle stands and public restrooms available. You can even buy Tarpon Springs property close to the Sunset Beach and walk everyday to your own beach to enjoy the incredible sunset. What could be better than that! Bring the whole family for a picnic or even a birthday party at this great location. Parking is limited so get there early. It's a great place to go to catch a quick sunset without having to deal with traffic and tons of other people. You won't regret your real estate investment in Tarpon Springs near the world's most beautiful beaches and there are many homes around this location so we can help you buy a home where you can walk to the beach!
POPULAR PARKS IN TARPON SPRINGS
A.L. ANDERSON PARK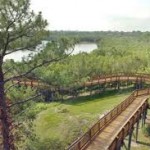 A.L. Anderson Park is in Tarpon Springs toward the northern part of Pinellas County. Anderson Park is great for picnics small and large. There is play equipment for the kids and a boat launching area. The park's landscape is part hilly and part wooded and there are area which overlook Salmon Bay and Lake Tarpon. An organized arrangement of picnic areas, elevated boardwalk, and a nature trail which is 478 linear feet long has been developed among the cypress trees along the Salmon Bay shoreline. Spectacular views of Lake Tarpon and Salmon Bay, rolling grassy hills, forests of oak and cypress trees make this park a photographer's dream. Anderson Park also has many playgrounds, open fields, fishing, a big shady dog park and bustling boating, hiking and biking facilities. All these amenities make this a Pinellas County park not to be missed.
THE PINELLAS TRAIL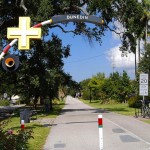 The Pinellas Trail is a linear park and recreation trail that became open to the public in December of 1990 and extends over 30 miles from Tarpon Springs to St. Petersburg. This abandoned CSX railway corridor has been transformed into a scenic, safe place for outdoor enthusiasts to bike, walk, jog, and rollerblade. The trail consists of amenities such as bike racks, benches, water fountains, and rest areas. Approximately 90,000 people a month enjoy the natural landscaping that shade areas of the trail and connects many of Pinellas County's most picturesque parks. The trail is a great way to explore Pinellas County as views of coastal waterways, parks, roadways and residential neighborhoods are all lined along the route. Eight overpasses were built with safety in mind, allowing trail-goers to cross major intersections easily with no need to stop. The Pinellas Trail allows residents and visitors to exercise and enjoy the outdoors at a place amazingly close to their own front door. More and more people are searching out and purchasing Tarpon Springs real estate on the Pinellas Trail for it's safety and convenience. My family and I currently live on the trail and it is one of the most enjoyable and friendliest places in town to get some exercise and enjoy the fantastic climate we all moved here for.
THE ANCLOTE KEY LIGHTHOUSE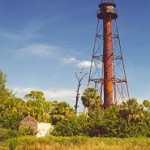 The Anclote Key Lighthouse is just off the coast of Tarpon Springs and to get there you need a boat. The lighthouse was in the dark for 20 years, suffering vandalism, but was finally restored and re-lit in Sept. 13, 2003 thanks to efforts of a private organization, the Tarpon Springs Historical Society, along with state and federal grants with over a million dollars raised for the eight month long project. Now there are two keeper's houses on the island, one for the state park ranger who can protect and maintain the lighthouse property. Visitors are welcome to come to the island, the lighthouse, and enjoy the beach.
Active Listings in Tarpon Springs
September 27, 2023
Subdivisions and Condo Communities in Tarpon Springs