TAMPA REAL ESTATE
subdivisions | homes under $500K | homes over $500K | condos | beach & park | overview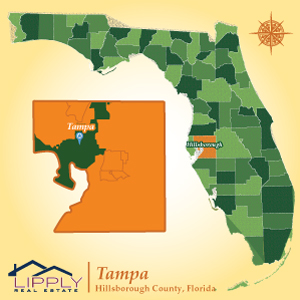 You're in the right place if you want to move to Tampa! Here we show you the popular areas of Tampa, along with descriptions and properties on the market today with large pictures and virtual tours. Plus, our Tampa agents are on floor duty right now waiting to take your call, email or chat. Don't hesitate to contact us with your questions or showing requests.
WHY SHOULD YOU MOVE TO TAMPA?
Tampa is an excellent place to buy a home or condo with many beautiful and affordable listings for sale! The Tampa Bay area is a region that has mild winter climates, tropical summers, spectacular sunsets and beautiful beaches. There are miles of blue waterways with sugar-white shorelines, hundreds of lakes, brilliant skies and a perfect average annual temperature of 72 degrees. The area offers year-round cultural events and social activities for people of all ages and interests. From ballet to professional baseball, football and hockey, from golf to jazz, from beaches to art festivals, from the entertainment of Ybor City night life to serene strolls along beautiful Bayshore Boulevard, Tampa and surrounding areas offer a multitude of opportunities for residents to live, work and play.
Active Listings for Sale in Tampa
December 10, 2023
MORE INFO ON TAMPA
If you're looking for a place to start or grow your business, the Tampa area is right for you. More and more companies are also relocating their headquarters to Tampa, as well. Florida's largest deep-water port is conveniently located in downtown Tampa. There are five major cruise lines that also sail out of the Port of Tampa, Carnival, Holland America, Royal Caribbean, Celebrity and the Radisson Seven Seas. Tampa's Airport is the #1 ranked airport in the country. There's no state income tax and the property taxes are low. And Tampa homes offers a lower cost of living than other major southern cities, including Atlanta, Orlando, Charlotte and Charleston. We also have some of the best healthcare facilities in the United States, including H. Lee Moffitt Cancer Center and Research Institute. Many of these factors help to maintain lower housing cost for homebuyers.
TAMPA SPORTS
Tampa is home to the 2003 and 2021 Super Bowl Champions — the Tampa Bay Buccaneers, the 2004, 2020, and 2021 Stanley Cup winners, the Tampa Bay Lightning. This great city also is where the New York Yankee baseball team has its spring training. Tampa is also home to MacDill Air Force Base (Headquarters for the special U.S. Operations Command and U.S. Central Command). Enjoy all these sports and more when you live nearby to Tampa.
TAMPA LOCATION
Tampa is about 30 minutes from the Gulf of Mexico beaches to the west, and one hour from Disney and Universal theme parks to the northeast. The North Tampa area includes neighborhoods north of Hillsborough Avenue to the Lake Keystone area, bordered by Pinellas County to the west and Interstate 75 to the east.
TAMPA Neighborhoods
Tampa contains some of the area's premiere neighborhoods, from master-planned communities to rural areas surrounded by over 100 lakes, lush landscaping and communities with old-fashioned hometown qualities. These communities are easily accessed via the Suncoast Parkway, Veteran's Expressway, I-275 and Dale Mabry Highway. Some of these include homes in the Keystone area, homes in the Lutz area, property in the Westchase and Citrus Park area, and real estate in the Northdale area, Town 'n County and Carrollwood real estate, property in the Country Way subdivision, new construction homes in New Tampa and Wesley Chapel, Mediterranean style homes in Temple Terrace and restored bungalows in Seminole Heights. South Tampa encompasses the region south of Hillsborough Avenue, downtown Tampa to US 301 to the east and to Mac Dill Air Force Base. There are a variety of homes to choose from, whether it be a mansion, bungalow, villa, town home or a high-rise condo. South Tampa has a lot of older neighborhoods with homes built in the early 1900's and most of these homes have undergone extensive restoration. These areas are called Hyde Park, Palma Ceia, and Bayshore Blvd.
Current Market Statistics for Tampa