SOUTH PASADENA COMMUNITIES HOMES AND CONDOS FOR SALE FLORIDA
communities | ‎homes under $500K | homes over $500K | condos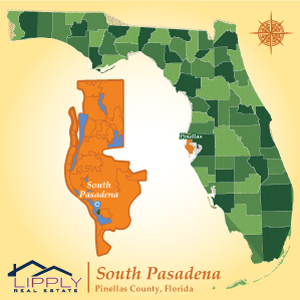 South Pasadena is a small incorporated city in Pinellas County FL near St. Petersburg, Gulfport, and St. Pete Beach. While this city only occupies less than one square mile of land it has become one of the most popular retirement areas for our 55+ active adult population. Currently there are about 5,000 people who live in South Pasadena and roughly 50% of them are over the age of 55. Like other areas in Florida the City of South Pasadena enjoys a semi-tropical climate with year round sunshine with a constant breezes from the surrounding gulf of Mexico. Many of the condos and homes for sale enjoy intracoastal water views with abundant boating and fishing opportunities. The charm of South Pasadena can be seen throughout the community whether you're taking a stroll through a scenic waterfront park or grabbing a bite to eat at one of the local restaurants – contact us for a personal tour!
SOUTH PASADENA LOCATION
The city of South Pasadena lies between St. Pete Beach and the city of St. Petersburg, surrounded by the Intercoastal Waterway, the waterway that separates the inland communities from the Gulf Coast communities. South Pasadena, Florida is within close proximity to the larger cities of St. Petersburg, Clearwater, and Largo making shopping and other dining options only minutes away. Tampa is also easily accessible through the use of one of the many bridges that connect Pinellas County to the Tampa Bay area. This convenience makes Tampa International Airport and other major businesses well within reach for the South Pasadena property owner.
View Active Listings in South Pasadena
December 2, 2023
South Pasadena Subdivisions and Condo Communities

»» South Pasadena Zip Code: 33707
Current Market Statistics for South Pasadena