SAFETY HARBOR FL REAL ESTATE – HOMES AND CONDOS FOR SALE
subdivisions | homes under $500K | homes over $500K | condos | overview | parks & beaches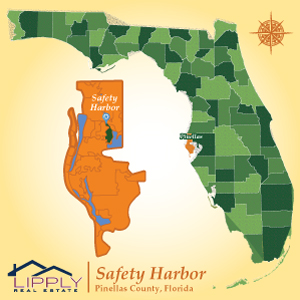 Safety Harbor's history dates back to the 1500's where five mineral springs were found near a large Indian village. The Indians put their faith in the healing qualities of the spring, a legend that continues today in Pinellas County. Water from those springs is used today throughout the Safety Harbor Resort & Spa. Safety Harbor is beautiful to say the very least. The city also includes a small Historical Museum on the site of several remaining Native American shell mounds. The museum features artifacts from the area dating back some 10,000 years. Count Odet Philippe homesteaded Safety Harbor, who is the one who introduced citrus farming in Florida. From 1823, this area is now occupied by Philippe Park, 122-acre waterfront park with picnic shelters, fishing spots, boat docks, and much more. A large ceremonial mound from the ancient Indian settlement exists in the park and is a scenic spot for wedding and photographers.To experience a more lively side of the city, take a walk down Main Street, where you can feel a unique mix of the old and new. Try kayaking on the Tampa Bay and you may see one of the few endangered Florida manatees. Over the past few years Safety Harbor retained both its family friendly community and its charming downtown district. While this is a small town it is also a very vibrant community full of life and fun – all the time. Browse through some of the available listings for homes, condos, and townhomes in the list below and contact us for a personal showing. We are here to help you buy a home in Safety Harbor.
Active Listings for Sale in Safety Harbor
September 30, 2023
Safety Harbor Subdivisions and Condo Communities
SAFETY HARBOR LOCATION
The quaint town of Safety Harbor is centered in the midst of larger urbanized cities and has that historical small town feel. Safety Harbor FL is located just south of Palm Harbor and north of Clearwater and lies along the back of Old Tampa Bay. Commuting is still close to the larger cities of Tampa, Clearwater and St. Petersburg, yet making Safety Harbor real estate a pleasant place to come home to, away from the hustle and bustle. While Safety Harbor Florida has a well-known resort and spa, gorgeous waterfront parks, annual events and weekly events to enjoy, you can still enjoy a weekend getaway to Orlando, only 90 minutes away.

»» Safety Harbor Zip Code: 34695

Current Market Statistics for Safety Harbor