PORT RICHEY FLORIDA REAL ESTATE FOR SALE
subdivisions | homes under $500K | homes over $500K | overview | condos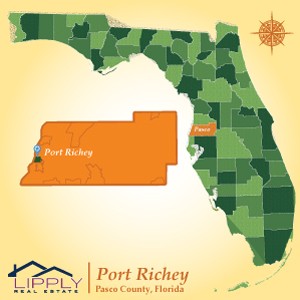 Port Richey, Florida is located just south of New Port Richey in Pasco County has many of the same characteristics as New Port Richey, but is much smaller in size. Real estate prices are somewhat lower than those in neighboring counties, making a real estate purchase in Port Richey an affordable option for families needing to watch their budget. With a population of around 4,000 residents, this town has much to offer with many well-known restaurants, including some located directly on the water, a large shopping mall, many large outdoor malls and other businesses and services. This smaller area of Pasco County has that small town feel and friendliness displayed through its citizens, just as its larger sister city. The real estate properties of Port Richey, Florida range from waterfront single-family homes, to those set more inland, established homes set along the river, and many other varieties including town homes, condominiums, mobile homes and duplexes. If you are searching for that small town that includes all of the conveniences of a larger city, Port Richey is a town you will want to call home.
Active Listings for Sale in Port Richey
October 1, 2023
Subdivisions and Condo Communities in Port Richey
PORT RICHEY FL LOCATION
Port Richey is located in Pasco County, just north of New Port Richey and south of Hudson. Spring hill is located about 25 minutes to the north and Clearwater is located approximately 35 minutes to the south. Tampa is a short commute, only 40 minutes away making work opportunities, large businesses, and the airport well within reach. Port Richey is a coastal town set along the Gulf of Mexico and provides its residents with many different types of properties to suit their individual needs. There are many inland properties available as well as other properties located on the river. Many Orlando attractions are less than a couple hours away and other nearby attractions within Clearwater and Tampa are easily enjoyed by Port Richey residents.
Current Market Statistics for Port Richey