PINELLAS PARK REAL ESTATE – HOMES AND CONDOS FOR SALE
homes under $300K | homes over $300K | condos | overview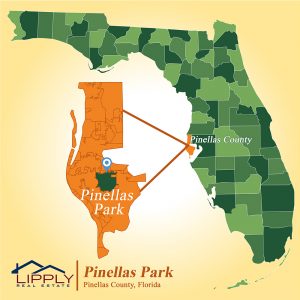 Pinellas Park was founded in 1913 as an agricultural community in Pinellas County and still holds to its roots with the Country in the Park and International Harvest Festival celebrations each year. The area is home to approximately 45,000 residents which offers a wide variety of home choices and contributes quite a bit to the amount of homes for sale in Pinellas County Florida. With its vast selection of older, more established homes and mobile home communities, Pinellas Park is a town with much to offer retirees, young families or the budget-minded consumer. Come see what Pinellas Park has to offer.
Active Listings in Pinellas Park
December 2, 2023
PINELLAS PARK LOCATION
Pinellas Park is located just east of Seminole between the larger cities of Clearwater and St. Petersburg. Still located close to the beaches and other attractions the Tampa Bay area has to offer, Pinellas Park property is very appealing to someone wishing to purchase affordable real estate in Pinellas County. A trip to Orlando and its attractions is only a short 90 minute drive away, making an exciting day trip or a weekend getaway very convenient. The larger cities of Clearwater, St. Petersburg and Tampa are so close that a commute to either city is surprisingly short. When you buy here you are centrally located in the Tampa Bay area.
Current Market Statistics for Pinellas Park