Ridgemoor Subdivision - Palm Harbor, Florida
ACTIVE AND PENDING LISTINGS IN RIDGEMOOR
March 28, 2023
Ridgemoor

Real Estate - Palm Harbor, FL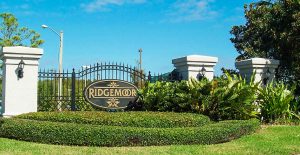 This stunning community situated in the sought after East Lake Real Estate Corridor called Ridgemoor will captivate your senses from the moment you enter it. Immaculate landscaping, soaring trees, attractive fountains, natural preserves and calming ponds are just a few of the scenic surroundings found in the this Palm Harbor community. Careful attention to detail was taken in laying out the home sites, while still maintaining a sense of warmth and sincere appreciation of the natural beauty that surrounds these homes. Homes in the Ridgemoor subdivisions have steadily increased in value.
Ridgemoor Realtor
We have been working in Ridgemoor for many years and have tons of experience in the community. Living in East Lake is a solid investment for your future. Ridgemoor is a community all families can call home. There are a wide variety of homes and condos for sale ranging in size from small 2 bedroom homes to large 5 bedroom homes with prices ranging in price for all budgets. You will find condos, villas, smaller homes and large executive style homes living among each other. And no matter which neighborhood you choose, each one truly shares the same care and concern for the upkeep and standard of living the Ridgemoor Development enjoys. Please visit each page below, learn more and view pictures of the individual subdivisions within the Ridgemoor Community.
Subdivisions and Condos in Ridgemoor
RIDGEMOOR HOMES FOR SALE
Residents of Ridgemoor can rest assured that East Lake has the best schools Pinellas County has to offer. From Brooker Creek Elementary to East Lake High and many in between, your children will excel with a superior education provided by nearby schools. If friendly neighbors, impeccably maintained homes, and calm natural surroundings are on the top of your priorities, then you have found the ideal place to live in Ridgemoor. Homes in this community do not stay on the market long, because buyers have figured out the same thing you have. Ridgemoor is the perfect place to call home. Call us today to schedule an appointment to view a current listing of homes for sale in this community.
SELL A HOME IN RIDGEMOOR
If you find yourself thinking about selling your Ridgemoor home, the Lipply Real Estate group can help you get top dollar for your property. We are one of the top real estate groups in Pinellas County, working full time and providing full service. We live, work and play in the East Lake Corridor. We know and love Palm Harbor! We are the Ridgemoor specialists. Give us a call or email and let us tell you why.
Send inquiry on this Community
RECENTLY SOLD PROPERTY (if any) FOR THIS COMMUNITY
RECENTLY SOLD IN RIDGEMOOR
March 28, 2023