OLDSMAR REAL ESTATE, FLORIDA
subdivisions | homes under $500K | homes over $500K | condos | overview | parks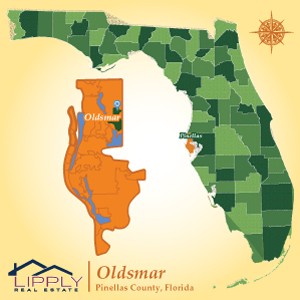 The city of Oldsmar was thoughtfully planned by the developer, Ransom Eli Olds of Oldsmobile Cars, to be the ideal community. Olds designed his community after Washington, D.C. His vision was for it to be scenic with neatly manicured tree lined boulevards leading from downtown to the northern edge of Old Tampa Bay In Pinellas County. Olds left the town after losing nearly $3 million. He envisioned a city of 100,000, but the population was only about 200 when he left and now stands at 8,798 which is relatively low for the area. Come experience all that the city of Oldsmar has to offer.
Active Listings for Sale in Oldsmar
December 8, 2023
Oldsmar Subdivisions and Condo Communities
OLDSMAR LOCATION
Not only is Oldsmar a great place to live and buy real estate, but also a great place to work as stated on Oldsmar's welcome sign as you enter the city "A Great Place to Live and Work". Oldsmar is a small town located between Tampa and Clearwater making commuting to either city practical for shopping and work. Located on the northern tip of Tampa Bay, Oldsmar has often been called "Top of the Bay". Oldsmar is close to both the Gulf beaches and Lake Tarpon, perfect for those who enjoy boating or other recreational activities. Oldsmar is also conveniently located to Tampa International Airport, only 12 short miles away. Owning real estate property in Oldsmar is a great investment due in part to such a good central location between Pinellas and Hillsborough Counties. If you work in downtown Tampa, you should consider purchasing a home in Oldsmar. A 90 minute drive from Oldsmar also allows you to visit Orlando and its attractions for the day or a weekend getaway.

»» Oldsmar Zip Code: 34677
Current Market Statistics for Oldsmar