NEW PORT RICHEY HOMES AND CONDOS FOR SALE
subdivisions | homes under $500K | homes over $500K | condos | overview | beach & park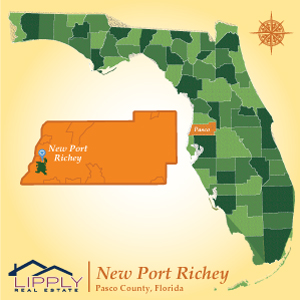 Centrally located in Pasco County, New Port Richey is close to everything. When you live here you will enjoy lower home prices and lower taxes than surrounding counties. Most subdivisions in New Port Richey have low homeowner fees and some are non-deed restricted which means there are no fees and no restrictions to limit your lifestyle. One of the most popular areas in Pasco County is New Port Richey. Mainly situated off of U.S. Highway 19, there are literally tons of shopping plazas, restaurants, banks, and retail establishments at your finger tips. A very populated residential area exists here too. There are many good real estate deals in homes and condos in this area as well. If you have any questions about New Port Richey, don't hesitate to contact us. The real estate properties of New Port Richey, Florida range from waterfront single-family homes, to those set more inland. There are new and well established homes, townhomes, condominiums, mobile homes and duplexes. If you are wanting all of the amenities Floridians have come to enjoy over the years, New Port Richey Real Estate is that laid back tropical lifestyle you've been looking for!
Active Listings for Sale in New Port Richey
December 10, 2023
Subdivision and Condos in New Port Richey
INFORMATION ON NEW PORT RICHEY
New Port Richey, Florida is Pasco County's largest self-governed town with a population of over 16,000 and continuing to grow. Many areas of this coastal town consist of well-established restaurants and businesses as well as a downtown district, Main Street, which boasts many small shops, florists and cafes that have made New Port Richey their home for years. Main Street is also the route taken by the annual Chasco Fiesta Parade and festivities that accompany it. This larger area of Pasco County still owns that small town feel and friendliness displayed through its citizens.
Current Market Statistics for New Port Richey