LUTZ FLORIDA REAL ESTATE FOR SALE
subdivisions | homes under $500K | homes over $500K | condos | overview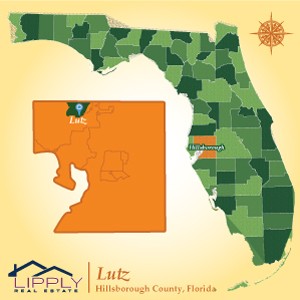 Lutz Florida is a town shared by two counties with a small portion of its location in Pasco County north of State Road 54 and the majority of its location in Hillsborough County. Lutz was born when William Lutz, the man whom which the town is named for, and his brother Charley Lutz began building "Lutz Station", a small train depot that connected Tarpon Springs, Brooksville and other Tampa areas. If you visit downtown Lutz today, you can see a replica of this train depot which stands in front of the Lutz Public Library adjacent to the train tracks that run through the area today. Many gatherings and festivals are held throughout the year at this train depot located at the intersection of State Road 41 and Lutz Lake Fern Rd. During these times, many Lutz residents gather together to visit with friends and family and remember the history of the small town that they call home. The original Lutz Post Office is also still there, the same post office that put the town of Lutz on the map, but it is now an art gallery.
Active Listings for Sale in Lutz
November 28, 2023
Subdivision and Condo Communities in Lutz
LUTZ HOMES FOR SALE
Lutz provides a mix of country life with modern conveniences within minutes. Lutz offers a quality lifestyle to its residents. With ample lakes and golf courses nearby, you will enjoy a true Florida experience living here. Many of the homesites in Lutz are bigger than the usual lot size as well. If you work in Tampa but are yearning for a quiet suburban lifestyle with room to roam, Lutz may just be for you! If you have questions about any Lutz community, just use the form below to submit your question. If you are looking to maximize your buying power in Tampa area real estate, be sure to consider this city.
Current Market Statistics for Lutz