LAND O LAKES FL SUBDIVISIONS AND CONDOMINIUMS
subdivisions | homes under $500k | homes over $500K | overview | condos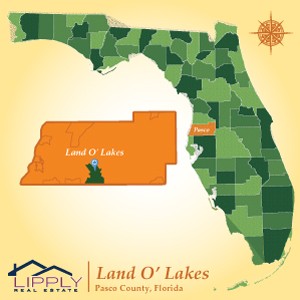 Land O' Lakes has been growing very rapidly in the past 10 to 20 years mainly due to all the new construction development coming into the area. As of the last census there are approximately 31,000 people living here and they are considered to have higher incomes than other areas in the Pasco County area. Below you will find a list of all the subdivisions, condos, and townhomes located within Land O' Lakes that you could consider while looking for property. Click on the link to take you to the listings for sale within these subdivisions with pictures and maps.
LOCAL LAND O' LAKES REALTORS
You can email us directly from the listing and we will contact you promptly with more information. We have worked in this area for many years. Land O' Lakes is a great place to live and there are many great deals to be found. One of the fastest growing communities of Pasco County, Land O' Lakes draws many families and retirees. Please browse through the listings available for sale in this area and make note of any that are of interest to you. If you want more information about any of these Land O' Lakes neighborhoods, or if you would like for us to check on other available homes for sale in these subdivisions, please email us or fill out the form below.
Subdivisions and Condo Communities in Land O Lakes
Active Listings for Sale in Land O Lakes
December 5, 2022