HUDSON FLORIDA REAL ESTATE FOR SALE
subdivisions | homes under $500K | homes over $500K | condos | overview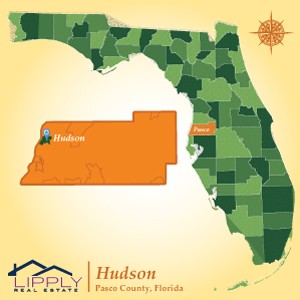 This is a small town that could be easily missed when traveling down US Hwy 19. However, for Pasco County Real Estate, a simple turn either left or right of this main highway in Hudson will give you a true feel of what the city of Hudson has to offer residents. Once you find yourself traveling down one of Hudson's many side streets off of Highway 19, the commercialism that is found up and down the highway seems to disappear and you are surrounded by tropical waterfront communities to the west or master planned subdivisions to the east. With its very own beach and an array of different home sites, Hudson Florida is definitely a city to take into consideration when searching for Florida property.
Active Listings in Hudson
September 26, 2023
Subdivision and Condo Communities in Hudson
HUDSON FL LOCATION
Hudson, Florida is located at the northernmost end of Pasco County along the Gulf of Mexico with Pinellas County to the south and Hernando County to the north. The city of Hudson is situated just north of Port Richey and just south of Spring Hill. Clearwater and its larger commercialized beaches are located only 30 minutes away, but for a less commercialized atmosphere, Hudson residents often stay right at home and enjoy their very own beach. Tampa is also located a short 40 miles away offering residents in Hudson a variety of different shopping choices, attractions and business opportunities. With such a closeness to Tampa, easy access to Tampa International Airport for business or vacation travel is well within reach and very convenient through the use of the Suncoast Expressway. For enjoyment close to home without needing a plane ticket, Orlando attractions are less than a couple hours away by car.
Current Market Statistics for Hudson