HOLIDAY FL SUBDIVISIONS – HOMES AND CONDOS FOR SALE
subdivisions | homes under $200K | homes over $200K | condos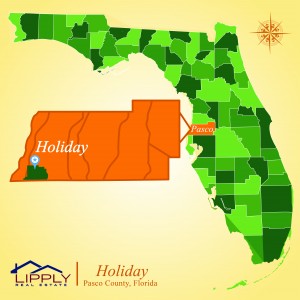 Holiday, Florida is a well-established town with real estate opportunities and homes for sale for every budget in Pasco County FL. Located within miles of the Gulf of Mexico, lakes, parks and beaches, Holiday is a small city with much to offer. There are both inland and waterfront properties as well as conservation properties located in Holiday. Over the years the area of Holiday has enjoyed a face lift with the redesign and construction of new shopping centers, schools, restaurants and communities that have begun to give this older town a newer, fresher look. Many people have chosen Holiday homes as their retirement or starter location due to the wide variety of affordable homes to choose from and the small town atmosphere so close to many of the things we love about Florida.
Active Listings for Sale in Holiday
October 1, 2023
Subdivisions and Condo Communities in Holiday
INFORMATION ON HOLIDAY FLORIDA REAL ESTATE
Holiday, Florida is located in Pasco County, just north of Tarpon Springs and south of New Port Richey along U.S. Hwy. 19 and Alt. 19. Tampa is less than 25 miles away making the airport, attractions, and other shopping and large businesses well within reach. Commuting anywhere to work from Holiday, Florida is simple due to its easily accessible location from any part of the Tampa Bay Area. Orlando attractions are just 90 minutes away, making a weekend getaway a simple and enjoyable task. Holiday is also located right along the Pasco / Pinellas County line putting many of Florida's beautiful beaches within close proximity to home.
With an abundance of resales, mobile homes and newly constructed homes within Holiday and the surrounding areas, finding a place to live in or around Holiday, Florida is simple. There are many choices to suit anyone's budget whether you are looking for a well-established community or a newly constructed community, there is something for everyone located in this small town. Holiday is a great place to do a fixer upper. There are some subdivisions with homes dating back to the 1960s that are prime candidates for improvement. Schools are close by and retirees and families alike are enjoying this quiet convenient community. Above you will find a list of some of the many subdivisions located within Holiday that you could consider while looking for property.
Current Market Statistics for Holiday