HILLSBOROUGH COUNTY REAL ESTATE
overview | affordable homes | luxury homes | waterfront homes | condos | waterfront condos | townhomes | villas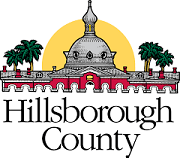 Hillsborough County Real Estate of Tampa Bay Florida with its golden sunsets, superb waterfront scenes, successful urbanites and vibrant lifestyle, is the essence of the state of Florida itself. Hillsborough County real estate can't be beat! Hillsborough County is at the center of Florida's west coast, fronting the Gulf Coast. Together with Pinellas County's St. Petersburg and Clearwater – they form the fabulous area known as Tampa Bay Metro. And what a great place it is to live! Real Estate in Hillsborough County is as diverse as the people who live here. Single family homes, villas, condominiums, townhomes, mobile homes and glorious waterfront property are abundant here. Whatever your dream home is you will find it in Hillsborough County. Just have fun browsing through all the many listings shown on our website and contact us when you are ready to set an appointment to view them. Our main office is in Pinellas County, but we have Hillsborough County Tampa area agents at your disposal – just waiting to get to work for you!
View Active Listings for Sale in Hillsborough County
September 27, 2023
WHAT TYPE OF PROPERTY CAN WE HELP YOU WITH?
This area also affords you better real estate housing options, because Hillsborough County, like the rest of Florida, offers it's homeowners tax exemptions and charges no state income tax. What is your Hillsborough County property choice? If you love the sight of the roaring coast, then opt for condominium unit by the bayside. If you love the rush of river waters, purchase a bungalow or luxurious estate by the lake, with amenities such as health spas, swimming pools, playgrounds, and parks. Do you love the idea of a round of golf each morning, after breakfast in your plush villa in a golf course community? Or is your dream retirement residence found in an active adult community? Perhaps you appreciate the architectural highlights, swanky dining places, and pulsating nightlife in the city. Then a Hillsborough County condominium unit downtown is the one for you. Call or email us with any real estate question on Hillsborough County.
YOUR SLICE OF SUNNY FLORIDA
1,048 square miles of land and 24 square miles of inland water, complete Hillsborough County at a total of 1,072 square miles, occupied by these cities. On the other side, Hillsborough County is bordered by Odessa, Tampa Bay and Pinellas, Polk, Manatee, and Pasco counties. As an additional enticement, residents and tourists alike can motor down in less than two hours to experience another prime tourist destination, the city of Orlando.
TONS OF THINGS TO EXPERIENCE
Hillsborough County has more than enough exciting, educational, recreational, and cultural destinations, to keep both tourists and residents exploring the county. You can discover Clearwater beaches, the awesome Fort De Soto Park and Caladesi Island, both voted one of the best beaches in the state and country. Join the residents in discovering major attractions like Busch Gardens Theme Park, The Florida Aquarium, and Lowry Park Zoo, Salvador Dali Museum, Tampa Museum of Art and Ybor City. Explore Ybor city with its three claims to fame. It is a National Historic Landmark District, Florida's Latin Quarter and former "cigar capital of the world". Or tee – off at one of Florida's premium golf courses.
GREAT LOCATION
This prime location, combined with clear skies, emerald seawaters, lush natural resources, the sun shining nearly 361 days a year, and an annual temperature of 72 degrees, is responsible for Hillsborough County's diverse population and dynamic economy. You can drive into Hillsborough County or fly into the Tampa International Airport (TIA), rated the best airport in the entire United States by Conde Nast Traveler magazine.
SCHOOLS IN HILLSBOROUGH
As for schools, the Hillsborough County School System is the 12th largest in the U.S. handling approximately 138,000 students in 193 schools. There are 126 elementary schools, 40 middle schools, 4 K-8 and 23 high schools. Tampa is home to outstanding universities and colleges such as Hillsborough Community College, University of Tampa, and University of South Florida, among others. Hillsborough County has spectacular natural resources, incomparable recreational activities, cultural opportunities, world-class shopping, and dining places. It is the place where big city amenities blend seamlessly into idyllic surroundings.Many people choose to live and work in Hillsborough County, visiting Pinellas County only on the weekends for beach and boating fun.
TAMPA INTERNATIONAL AIRPORT
Tampa International Airport, in Hillsborough County, is an award winning facility due to its unique architectural design and travel friendly functionality. Over 17 million people passed through TIA's gates in 2004 alone. With many airlines, over 60 active gates and a maximum of 1000 feet from parking to plane, TIA is a very traveler-friendly airport. Locate your airline on the red or blue signs as you drive into the airport property to find the right parking and airside location; it couldn't be easier! Only minutes away from anywhere in Tampa Bay, Tampa International Airport is known as one of the top-rated, easiest to navigate airports in North America.
Other County Areas We Cover:
Hillsborough County Real Estate | Pinellas County Real Estate | Pasco County Real Estate | Hernando County Real Estate
Market Statistics for Hillsborough County