DUNEDIN BEACH AND PARK INFORMATION
subdivisions | homes under $500k | homes over $500K | condos | overview | beach & park
GULF BEACHES IN AND NEAR DUNEDIN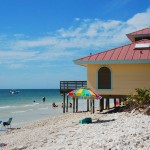 Honeymoon Island State Park in Dunedin is a far cry from the commercialism of Clearwater Beach. Nestled in the western corner of Dunedin in Pinellas County, the island has many nature trails, wildlife and white sandy beaches. You can drive or walk across the short causeway to enjoy the famous Gulf beaches, and delicate mangroves. Curious nature lovers may see hidden osprey nests, an assortment of different types of birds, and almost non-existent to the state of Florida anymore are some virgin slash pine forests to be seen. Are you a dog owner? Honeymoon Island State Park also has its own separate dog beach for you and man's best friend to enjoy together. Back at the main beach, visitors can swim, fish, and snorkel in the warm waters of the Gulf or picnic while they enjoy the beautiful scenery. You can't go wrong purchasing real estate in Dunedin this close to one of the most beautiful beaches in the world!
CALADESI ISLAND STATE PARK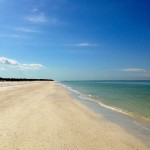 Caladesi Island State Park in Dunedin and its white sand shores have been rated as one of the nation's best beaches. The park is accessible by private boat or ferry from Honeymoon Island State Park. You can even walk to this beach if you have lots of time energy. Start out at north Clearwater Beach and keep walking north. Take water and sunscreen. Beach lovers can enjoy swimming, sunbathing, and beach walking. You can fish from your boat or throw a line out into the surf. Nature lovers can watch wildlife while hiking the nature trail or paddling a kayak trail through the bay and mangroves. Picnic tables and shelters are located near the beach; picnic pavilions can be reserved for a fee. The park has a marina with electric and water hookups for boaters. The park also has a snack bar and gift shop. When you own Dunedin property, you can enjoy many days of being completely surrounded by nature at Caladesi Island State Park.
POPULAR PARKS IN AND NEAR DUNEDIN
The City of Dunedin is home to many small parks that have amenities such as trails, picnic shelters and playgrounds. Dunedin also has its own "Happy Tails" dog park. Here are a just few of Dunedin's larger parks and also some other popular parks located in neighboring cities.
PINELLAS TRAIL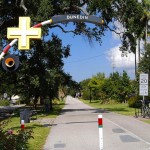 The Pinellas Trail is a linear park and recreation trail that became open to the public in December of 1990 and extends over 30 miles from Tarpon Springs to St. Petersburg. This abandoned CSX railway corridor has been transformed into a scenic, safe place for outdoor enthusiasts to bike, walk, jog, and rollerblade. The trail consists of amenities such as bike racks, benches, water fountains, and rest areas. Approximately 90,000 people a month enjoy the natural landscaping that shade areas of the trail and connects many of Pinellas County's most picturesque parks. The trail is a great way to explore Pinellas County as views of coastal waterways, parks, roadways and residential neighborhoods are all lined along the route. Eight overpasses were built with safety in mind, allowing trail-goers to cross major intersections easily with no need to stop. The Pinellas Trail allows residents and visitors to exercise and enjoy the outdoors at a place amazingly close to their own front door.
DUNEDIN STADIUM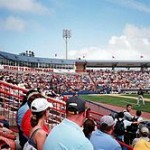 Formerly called Knology Park: Home of the Blue Jays, ranked by Sports Illustrated as one of the top 5 places to watch a Spring Training game, is a community ballpark in which Dunedin residents can watch the Toronto Blue Jays Training in the spring, Blue Jays Minor League, Falcons High Baseball and many other community events throughout the year. The park capacity is 5,491 individual seats and features include a press box level, three picnic areas, a scoreboard with electronic message display, two air conditioned rooms, regulation sized Major League playing field, half-field, batting tunnels, and full concession stand. In addition, the administrative offices feature an executive board room, dining room and kitchen, classroom, clubhouse and workout and training facilities. On November 7, 2010, the City of Dunedin announced that it had reached a 7-year, $181,000 agreement with the Florida Auto Exchange, a Dunedin car sales center, for the naming rights of then-Dunedin Stadium which has expired.
HIGHLANDER PARK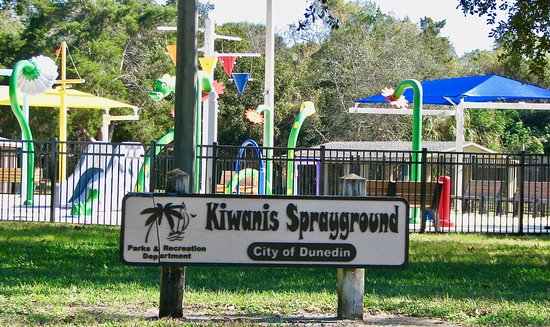 Highlander Park is a 70-acre recreation park which is home to many of the festivities held in Dunedin each year. This park boasts a fine arts center, the Dunedin Community Center, the Dunedin Nature Center, Highlander Pool, and a pavilion over the lake which is home to various types of birds. The Dunedin Nature Center features a beautiful butterfly garden as well as a "Sensory Garden for the Visually Impaired" which has been provided by the Bay Bouquet Garden Club. Some of the sports facilities here open to park visitors are basketball courts, tennis courts, sand volleyball, and little league and softball fields. Of course the park has picnic areas and shelters available for guests to use for larger gatherings or just for a place to take a seat during their visit. Each of the three colorful, cheerful playgrounds at Highlander Park are inviting to children of all ages and promises hours of fun. Spend many days of family fun at Highlander Park when you own Dunedin real estate.
HAMMOCK PARK
Hammock Park is a 75-acre nature park home to various types of wildlife, such as herons and other birds, many of which can be seen from the observation platform or along the five miles of nature trails. Shade is not limited here, as the canopy of trees cover a large majority of the nature trail as well as other areas throughout the park. The Bay Bouquet Garden Club has planted over 200 trees in this scenic park to add to the existing shade-covered grounds. With picnic shelters and a playground for the kids, Hammock Park is a peaceful retreat for any Dunedin property owner.
View Active Listings in Dunedin
September 28, 2023
DUNEDIN SUBDIVISIONS AND CONDO COMMUNITIES

»» Dunedin Zip Code: 34698