CLEARWATER FUN: BEACH, MARINA, GOLF INFO
subdivisions | homes under $500K | homes over $500K | condos | beach & park | overview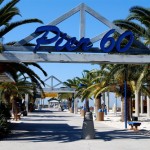 Clearwater Beach, North Clearwater Beach, Pier 60, and Sand Key Beach — Enjoy dining, shopping, fishing, entertainment and sunbathing at Clearwater's fantastic beaches. All beaches are served by Clearwater's "Jolly Trolley" or visitors can use the metered parking located conveniently close to each beach. Showers, concessions, restrooms and cabanas are available, as well as swimming, picnicking and beach volleyball. At Pier 60, visitors and residents alike celebrate the setting sun with a nightly street festival, "Sunsets at Pier 60" starting two hours before sunset. Join local artists, craftspeople and performers at this famous landmark and watch the golden sun sink into the Gulf of Mexico. Come out and join in on the fun!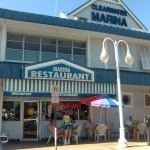 Clearwater Municipal Marina is a 220-slip marina that is open seven days a week, 365 days a year. There are 23 slips available for transient boaters. They are equipped to accommodate vessels up to 125 feet. There is no drawbridge between our marina and the Gulf of Mexico. They offer fuel, showers, free pump outs, free fishing pier, 24 hour security, free cable TV, weather monitor, and waste oil disposal. The Marina is home to the best fishing and sailing charters, dinner cruises, sightseeing boats, dolphin watch tours, parasailing, and many types of personal watercraft. In addition, they have a gift shop, restaurants, barber shop, nautical shop, laundry, post office, bait house and even a dental clinic.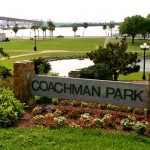 Coachman Park in downtown Clearwater is the beautiful setting for the annual Clearwater Jazz Holiday each October. Conveniently located just before the new bridge to Clearwater Beach, Coachman Park is located on Clearwater Harbor and has a world-class band shell to showcase musical acts. The park slopes down toward the water and is just west of the new Clearwater Library. Enjoy waterfront breezes, swaying palms and the coolest jazz this side of New Orleans at Coachman Park. Since the Jazz Holiday's inception in 1979, it has consistently attracted superior jazz musicians and each year's line-up reflects a commitment to meeting a wide variety of jazz tastes. The Park also hosts other concerts and events throughout the year, such as the Florida Pirate Festival and Christmas Under the Oaks, both in November.
CLEARWATER GOLF COURSES AND SPORTING FACILITIES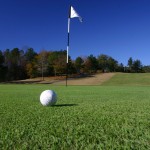 Countryside Golf and Country Club
Countryside Executive Golf Course
Clearwater Golf and Country Club
Top of the World Golf Course
Chi Chi Rodriguez Golf Club
Family Golf Center
THINGS TO DO AND SEE
You can find all kinds of information about Clearwater Beach at the Clearwater Beach Chamber of Commerce. Here you will find maps, brochures on attractions, and schedules of what's happening. They are located in the lobby of the Days Inn on Clearwater Beach. Feel free to call or stop by and speak to one of their helpful staff or take a picture with their famous "All American Turtle". Office hours are Monday through Friday from 9AM to 3PM or call (727) 447-7600 or (888) 799-3199.
TAKE A STROLL
— Looking for long walks on the beach? Well, at Clearwater Beach you have three miles of pure, white, sugary, sandy beach to walk, run, or jog. While you stroll, take in beautiful sunsets, a tropical landscape, a cloudless or star filled sky and an all around beautiful atmosphere. There are many condominiums, and hotels up and down Clearwater Beach, however you do not need to stay at one in order to enjoy all this Beach has to offer. There are many public access areas that makes getting to the beach very simple. It is not uncommon for strollers to see dolphins while enjoying a walk along the shoreline.
BAIT AND HOOK
— For fisherman and those who just enjoy catching a fish from time to time, you can enjoy one of Clearwater Beach's chartered fishing boat excursions. No fishing license is needed to fish in Clearwater's beautiful waters if you are chartering one of the many fishing boats available. The Gulf of Mexico has many different game fish for your fishing enjoyment. More information on charters can be found by contacting the Clearwater Beach Chamber of Commerce or the Clearwater Marina.
ATTEND CHURCH SERVICES
-– Clearwater Beach has two churches available along the strip for you to attend during your stay. The Chapel by the Sea (727-446-0430) is a nondenominational church. Since it is so close to the shoreline and many of the hotels that hold receptions, many choose this chapel as the place to exchange their wedding vows. They also hold Sunday worship services . St. Brendan Church (727-443-5485) is Roman Catholic and offers Saturday and Sunday services at many times throughout both days. You may also choose to attend many other nearby churches that Clearwater has to offer.
CRUISE THE GULF
-– Whether it is an exhilarating thrill ride or a relaxing sail, Clearwater Beach has many different excursions to offer, allowing you an up close look at dolphins or a sunset sail. Contact the Clearwater Marina for more information.
DINE BY LAND OR SEA
— Whether you crave a scrumptious seafood dinner at a shoreline restaurant or a steak on the sea, Clearwater Beach has many restaurants and dinner cruises to your liking, both guaranteed to bring you gorgeous sunsets. There are many dinner boats available as well as casino cruises.
MAKE A SPLASH
-– What better way to see Clearwater Beach than from an ocean view. Whether it is a thrilling ride on a jet ski or a soar on a parasail, both will give you a view of the shoreline from afar. You can find jet ski rentals and parasail rides offered up and down Clearwater Beach.
SEE RESCUED SEA LIFE
-– Take an educational tour of the Clearwater Marine Aquarium (727-441-1790) where you are sure to see rescued sea life and birds. Learn about these amazing creatures and their behaviors as they are rehabilitated. This is your chance to learn the language of the dolphins, the life of a sea otter, and the tales of turtles. Boat rides are also available, hosted by an on board marine biologist ready to answer you questions as you cruise to an island sanctuary for birds. Contact the marine aquarium for more information. The Suncoast Seabird sanctuary is also a wonderful place to see rescued and rehabilitating sea birds. These birds would never have recovered without the help of these spectacular people. Come visit the birds at the Suncoast Seabird Sanctuary.
VISIT A FARMER'S MARKET
-– Station Square Park hosts a weekly farmer's market held on Wednesdays between November and April. Here you can take home with you fresh produce and flowers, delicious baked goods, creative arts and crafts and enjoy entertainment.
TAKE A GAMBLE
-– Close by, you can enjoy gambling aboard the SunCruz Casino which cruises from various locations. The Seminole Indian Hard Rock Hotel and Casino will entertain you with its various slot machines and classic music located on Seminole Indian reservation on Orient Road in Tampa. Both are within driving distance from the beach and with luck, you may end up a winner!
SAIL YOURSELF
-– If you ever dreamed of "learning the ropes" and sailing the seas on a sailboat, The Clearwater Sailing Center of Sand Key will help you achieve your dream to be a sailor. It is a perfect chance for you to learn how to sail a sailboat.
ENJOY THE PINELLAS TRAIL
– Spend the day biking, skating, running or walking on the beautiful Pinellas Trail. This former railway stretch, now known as the Pinellas Trail extends from Tarpon Springs all the way to St. Petersburg and allows for a great day of exercise. Rental equipment is conveniently available right on Clearwater Beach.
DANCE THE NIGHT AWAY
-– Whether it is dancing lessons you are looking for or just a place to dance, Clearwater Beach has a variety of clubs downtown as well as right in the hotels along the beach. The Clearwater Beach Recreation center also offers the music of the big bands very Monday and Thursday evening,
SPLASH WITH THE SWASHBUCKLERS
— Captain Memo's Pirate Cruise (727-446-2587) is not just for the young, but also the young at heart. No matter what your age, you are bound to find this pirate cruise exciting. Cruise aboard the Pirate's Ransom as you are entertained through the life of pirates. Sightings of dolphins are frequent. Storytelling and face painting is also offered. You won't be asked to walk the plank during this two hour fantasy cruise.
CONCERTS ON THE HARBOR
— Bring your blanket and lay under the stars as you enjoy a concert on the Clearwater Harbor at Coachman Park. Concerts are held Friday nights June through August. Other events are also offered throughout the year.
SAND BETWEEN YOUR TOES
– Whether you come to watch or come to play, beach volleyball is a must here. Professional tournaments are held throughout the year and open courts allow you to practice your game. Invite your friends out and play a game of volleyball on Clearwater Beach!
KID'S WEEK ON THE BEACH
– Kid's Week , held usually the third week in June, is an event no child will want to miss out on. Activities run all week and range from contests for fishing and building sand castles to fashion shows, cruises and a visit to the Clearwater Marine Aquarium. Scheduled events are inexpensive, usually only about one dollar per child and fun is to be had by all! This event is exclusive to Clearwater Beach and one not to be missed.
GO TEAM!
– Are you a sports fanatic? You've come to the right place! Because of our beautiful weather Spring Training games for the Philadelphia Phillies and the Toronto Blue Jays are held right here in our area. Plus, the Tampa Bay Buccaneers, the Tampa Bay Rays, the Tampa Bay Lightning, and the Tampa Bay Storm all play within a short distance of Clearwater Beach.
PLACE YOUR BET
– Catch the excitement of the Greyhound Race Track in Tampa and the racehorses at the Tampa Bay Downs. Aside from a day at the beach, what a better way to spend your day?
LOOKING FOR RECREATION?
– Weightlifting, swimming, tennis, basketball or bridge the Clearwater Beach Recreation Center (727-462-6138) offers it all, even line dancing lessons! This facility is open to residents and visitors.
A BEACH PLAYGROUND
– The large Pier 60 Park comes complete with swings, slides, sand and snacks and is enjoyed by many children daily. There is also a pavilion for events.
CATCH A FISH
– The Pier 60 fishing pier (727-462-6466) is the perfect place and offers a bait house equipped with bait, supplies, snacks and beverages. The pier is open 24 hours a day except Christmas and no fishing license is needed.
TEE TIME
– The Clearwater area has many public and semi-private courses of all varieties and difficulties. If golf is your game, Clearwater is your place. Spend a day on the greens in the spectacular sunshine. For the kid in you, visit one of the many miniature golf centers located on the beach and in the surrounding area.
YOU DESERVE TO BE PAMPERED!
– The world famous Safety Harbor Spa has been enjoyed by locals and world famous people alike. This waterfront resort offers a wide range of calming spa treatments to suit your needs as well as a state-of-the-art fitness center. Come for the day or stay for a week and enjoy all the amenities the Safety Harbor Spa has become famous for, all under the warm Florida sun.
TAKE A TROLLEY RIDE
– The Jolley Trolley serves multiple purposes. Ride for fun, to shop or to sight see. For the price of only a dollar, it is an affordable way to experience Clearwater and not have to worry about parking. Seniors get a 50% discount and children under three are free. The Jolley Trolley runs every half hour along Clearwater Beach, Sand Key beach, Island Estates and the mainland.
HISTORY REMEMBERED
– Take an educational tour through The Tampa Bay Holocaust Museum. Located in St. Petersburg, the art and stories will have an irreversible affect on visitors young and old, of all cultures.
CELEBRATE THE SUNSET
– Each night at Pier 60 there is a celebration of the sunset offering visitors a glimpse at street shows, crafts, clowns, magicians and concerts. The festivities begin 2 hours prior to sunset and continue into the night. It is a celebration not to be missed.
SHOP 'TILL YOU DROP
– If there is anything the Tampa Bay Area has an abundance of, it's shopping malls, shopping centers, flea markets, and bazaars. Westfield Shopping Town offers indoor shopping malls in Largo, Citrus Park, and Brandon perfect for comfortable, air conditioned shopping with food courts offering a taste for everyone. Outlet malls, such as the popular Ellenton Mall, offers designer shopping at unbeatable prices. The International Mall, located next to the Tampa International Airport boasts upscale shops and trendy eateries to satisfy anyone's taste. The Oldsmar Flea Market, Wagon Wheel Flea Market both offer a variety of items where you are sure to find a deal. Many cities in the vicinity offer open air strip malls and free standing shops for days when it is just too beautiful to spend it inside. Enjoy the best of shopping in Clearwater and the Tampa Bay Area.
BE A SCIENTIST
– MOSI (Museum of Science and Industry) is an amazing journey through science offering 3 floors of hands-on exhibits, a children's play area, butterfly garden and IMAX theater where you can experience movies like no other cinema can offer. Kids in Charge allow children to experience a flight simulator, make a movie, climb through a rope maze, or crawl through a cave. MOSI also offers traveling exhibits, such as the controversial "Bodies" exhibit. Check with the MOSI box office for information on current and future exhibits. Memberships and birthday parties are also available.
CALL OF THE WILD
– Busch Gardens Tampa Bay (813-987-5987) is an adventure set in an African theme sure to thrill visitors. Whether it is exhilarating thrill rides, wild animals, mind-blowing shows or water rides you are looking for, Busch Gardens offers that and more. Busch Gardens boasts some world famous roller coasters and updates their ride selection frequently. Across the street don't miss Adventure Island, Busch Garden's water park, open seasonally.
DISCOVER DALI
– The world famous Salvador Dali Museum will amaze you as you view some of the most fascinating displays of melting clocks, sculptures, paintings, holograms and glass from one of the most talented artists of the twentieth century. Located in St. Petersburg, this museum has received rankings as one of the top museums in the state of Florida.
RUTH ECKERD HALL
– Opening in 1983, Ruth Eckerd Hall has hosted performances ranging from private recitals to plays to concerts from some of your favorite musicians. Designed by the Frank Lloyd Wright Foundation, Ruth Eckerd Hall is centrally located and conveniently accessible from anywhere in the Tampa Bay Area.
HISTORIC
BILHEIMER

CAPITOL THEATER

– The Capitol Theater, also known as the Royalty Theatre in 1921 struggled to stay solvent and closed its doors for many years. In 2014 it reopened after a massive restoration by the City of Clearwater that took almost 10 years to complete. This historic theater in Clearwater has a seating capacity of 750 people and is now managed by Ruth Eckerd Hall. You can see Broadway shows, concerts or attend various events. Situated directly in downtown Clearwater you can catch a show, have dinner and still make it for the breathtaking sunset on Clearwater Beach.
DISCOVER VARIOUS CULTURE
– The Museum of Fine Arts combines the characteristics of an art museum with a Mediterranean villa all set in the tropical atmosphere of Florida. Take a tour, listen to a lecture, take a class or visit special exhibits. Experience art from all walks of life at the Museum of Fine Arts.
EXPLORE AND IMAGINE!
– At Great Explorations Hands On Museum it's okay to touch the exhibits. Learn not just through sight but through touch. Bring the whole family because there is nothing here that can't be moved, touched or manipulated. Give your brain a workout at the Great Explorations Hands On Museum.
CHRISTMAS EVERYDAY
– Visit one of America's largest Christmas stores right here in Clearwater. Some of the most gorgeous trimmings for your tree can be found here. There is a pine-scented magical forest with well over one hundred decorated trees, animated dolls and accessories and holiday music. If you love Christmas, you'll love this store!
"LONG" TERM TRAINING
– The Long Center (727-562-4800) offers residents and visitors the right equipment to stay in shape from their Olympic size pool, to their indoor basketball courts, the possibilities are endless. Train on the weight equipment or cardio machines. The Long center also offers meeting facilities and a playground for the little ones.
HAIL A TAXI…ON THE WATER!
– The Clearwater Water Taxi is at your service when you want to visit any destination along the Clearwater waterway. Just give them a call and they will pick you up. What a way to go!
PLAY SOME INDOOR GAMES
– Rainy day? Need some time out of the sun? Enjoy Beach Gameland for some arcade style games and various prizes to choose from. Located in Pelican Walk Plaza, Beach Gameland is not just video games, but they also provide internet access as well.
FRANCIS WILSON PLAYHOUSE
– Located at 302 Seminole Street in Clearwater, Florida 33755 this venue has a variety of concerts and shows at different times. Call: 727-446-1360 for current information. There is also an Art Gallery where the exhibits change frequently so you can go back again and again and see new things. This playhouse is a mainstay in Clearwater's history.
If you are looking for Clearwater Real Estate – you'll find that and more on our website; just click the link to take you to our Clearwater MLS search page to find homes and listings that meet your criteria and schedule a showing with us.
MORE INFO ON CLEARWATER
BEST TIME TO GO
This depends on whether you want to get a bargain or keep cool. Summer is the best time for inexpensive beach vacations. The humidity is high in the summer, making it seem even hotter than it actually is. The heat should be no problem, though, if spending time in the ocean or staying close to air-conditioning. The best weather is the January through March period (although with a few cool days at times) and September through November. It is also the most crowded time to visit.
AVERAGE WEATHER
Generally, the winters in Clearwater, Florida are dry and the summers are wet. There is plenty of sunshine all year long. During the summer, the rains don't usually last long. Every once in awhile it will rain all day, but not very often. The average low in January through March is 50 degrees, while the high averages 76. It starts warming up April through June when the low averages 62 degrees and the high averages 90. July through September is the hottest period, when the averages are 73 for the low to and 90s for the high. Temperatures come down in October through December when the average low drops to 51 degrees and the high is a comfortable 84. The gulf water temperature is in the 80s most of the year, dropping to 60s-70s in January through March. This is higher than normal for most of other central Florida, because the water keeps the temperature swings at bay.
TRANSPORTATION
Driving is the main mode of transportation because public transit is scant in Florida. There are plenty of places to rent a car, including the St. Petersburg/Clearwater International Airport and Tampa International Airport. It's easy to rent a taxi or limo and UBER is helpful too. Your hotel can help you get a car or taxi. Clearwater has a Greyhound station for those who prefer to arrive by bus.The Pinellas Suncoast Transit Authority (PSTA) provides bus service throughout the county and to Tampa, but stops can be a bit difficult to figure out. The Clearwater terminal is at Park Street and Gordon Avenue. Within Clearwater you can hop on The Jolley Trolley for a nominal fee. It serves downtown Clearwater, Clearwater Beach, and Memorial Causeway and out to Dunedin, Palm Harbor and Tarpon Springs. Stop in Dunedin and connect with our Safety Harbor trolley which stops at The Countryside Mall. The beach route runs 7 days a week, the Coastal and Safety Harbor routes on Friday, Saturday and Sundays. If you are driving, there is metered parking on the street or in a lot. Beach meters are enforced every day with varying hours. Read the meters for the hours of enforcement.
IN-SEASON COSTS
November through April is the peak tourist season. The humidity is low and temperatures are comfortable, but finding an available hotel room in a convenient location can be more challenging than at other times of the year. This may be a great reason to buy a condo in Clearwater — especially if you want to visit frequently. Clearwater is known for its value, so even during the in-season prices don't rise as dramatically as they may in other areas. Other costs, including restaurants and attractions, remain relatively steady throughout the year. Book your lodging early during the in-season because the hotels fill up very quickly.
DAY TRIPS
Two popular areas to explore from Clearwater are the artsy resort community of Sarasota and the theme parks in and around Orlando. Sarasota is 65 miles from Clearwater and Orlando is 100 miles away.