BROOKSVILLE FLORIDA REAL ESTATE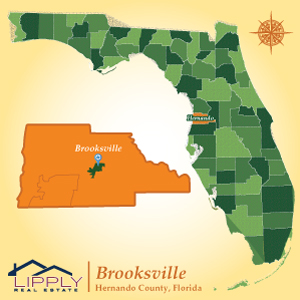 Located in Hernando County, the small town of Brooksville has been growing steadily over the last decade. There are many reasons people choose to live in this charming town. Besides being maybe the only city in Florida that has rolling hills, it also has natural surroundings and serenity. A peaceful small town life, yet still within close proximity to larger metropolitan cities. With the inclusion of the Suncoast Parkway, residents are finding a quick and easy commute south to Pinellas, Pasco or Hillsborough Counties. Another great reason is that the homes are a bit more affordable here. While home prices have steadily increased and held their value, they have not skyrocketed like larger cities such as Tampa, Clearwater or St. Petersburg. You can still find a great home to raise a family at a price that you can afford. And the people are second to none. You will love knowing your children are growing up with friends who share family values, great schools and plenty of space to run and play. Brooksville provide a country life with fresh air and less traffic. Many of the homes sit on large lots with acreage without the worry of high HOA fees or rules and regulations should you desire that type of property. Situated at the top range of Hernando County you won't be more than an hour from Tampa and Orlando, making this a great choice for commuting to those cities. Let us help you find a new home in Brooksville, our Hernando County agents await your call!
Active Listings of Homes for Sale in Brooksville
September 30, 2023
WHERE TO LIVE IN BROOKSVILLE FL
If you are looking for a home for sale in Brooksville you have many opportunities. Imagine tree lined streets with children really playing in the yard. This can be you life! You can find an older home with historic charm in a more mature neighborhood like the photograph above, or single family homes in a more family oriented community as well as many new retirement communities. There are also new state of the art homes with modern architecture, newer appliances in communities that are gated, with features such as pools, golf courses, and recreational amenities. Below is a listing of single family home and townhome communities in the Brooksville area. But to truly appreciate this community and what it has to offer, you need to visit yourself. Come see why over roughly 10,000 people call it home.
WHAT IS THERE TO DO IN BROOKSVILLE?
Hernando County is home to such interesting and fun destinations as wildlife rescues, and Weeki Wachee Springs. Nicknamed the City of Mermaids you can see mermaids swim or have fun at the connecting Waterpark of Buccaneer Bay. Brooksville is close to the beach and has many parks in the area to enjoy. The Brooksville Fairgrounds always has something going on as well. Brooksville residents enjoy many community events such as a Christmas Parade and Festival, arts and crafts shows, and annual food festivals. Outdoor recreation is also very popular with hunting, fishing, canoeing and hiking as just a small selection of the great ways to enjoy the gorgeous weather year round here. With an average January temperature of just 60 degrees you can play outside all year round! Championship golf courses, and bike trails can be enjoyed by residents and visitors alike.
Current Market Statistics for Brooksville