What Goes Wrong in New Construction
Posted by Lipply Real Estate on Saturday, March 4, 2023 at 12:30 PM
By Lipply Real Estate / March 4, 2023
Comment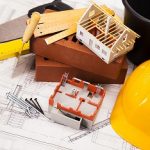 Purchasing a new construction home can be quite exciting. You are there to witness the build of your home from foundation to finish, all while adding your own personal touch to your new home in the form of upgrades and plan customizations. Through all of this hectic time of meetings, consultations with designers and sleepless nights of anxiety, there are certain pitfalls in the home building process you must make sure you watch out for to ensure that your home is built with the highest quality standards, while keeping the entire process smooth and stress free.
CHOOSE YOUR LOT CAREFULLY
For most families, this new home will be a primary residence for many years, even decades, into the future. You want to be sure that you make the right decision, especially with new construction, on the location of your new home's lot. Though varying by market and location, many times new construction has a tendency to appreciate at a slower pace in the first 3 years of your move in. If your home is being built in a highly desirable area, then this does not apply to you. New construction being built in new parts of your market, mostly in markets that have little to no history, will be mostly affected by this anomaly.
To be safe, be sure that your home is going to be your primary residence for at least 5 years to avoid bringing money to the closing table should you have to sell. This vital safe guard, yet simple, can make a big difference in your financial future. If you find that you are upside-down on your home, or owe more than the costs of selling your home, then you will be forced to either stay in your home, or worse, foreclose if you absolutely have to move out.
GET A HOME INSPECTION
The term "new home construction" in itself can be a bit misleading. New homes cannot be compared to the general consumer market. In other words, just because a home is new doesn't mean that the home will be delivered to you in perfect condition like traditional products you purchase. A "new" home simply means that it hasn't been lived in, as one of my property inspectors, Mike Elmore, has been known to say.
New homes are subject to human error, and though not a devastating find, problems with your home must be addressed. Most new home sales representatives will say the same thing, "Don't worry. We are forced to have over 20 inspections by the city (or county), so you can be sure your home is perfectly fine." Unfortunately, what is left out of the conversation is that many city inspections are general inspections, meaning they only inspect one or two items in the home and assume the rest is in the same condition. You will also find that through the numerous city inspections, each one comes to the home to inspect a certain system in the home, such as plumbing, leaving your home subject to the opinion of numerous different inspectors with different levels of expertise.
The best solution to this problem is to get your own inspection. The costs involved with purchasing your own inspections are small compared to the peace of mind you will have after the builder has addressed the issues discovered by your inspector. Find a trusted, qualified individual to inspect your home prior to the builder installing sheet rock during your home. Having your first inspection done once the framing has been completed on your home, with no sheet rock, will allow your inspector to see many important details of your home that may not be as visible had there been sheet rock to block his view. Once your inspection is complete, deliver your report to your real estate agent or builder salesperson and address all issues. Make sure you are satisfied with the builder's response and actions taken for all issues discovered to ensure that your home is being built at the level of quality you desire.
GET FOLLOW-UP INSPECTIONS
Once your initial inspection is complete, your builder may have a list of items that they will be repairing or replacing for you. Make sure that you have the same inspector that serviced your home the first time, come out once again to evaluate the actions taken by your builder. This will ensure that the repairs or replacements were done correctly, and will avoid confusion by having the opinions of one inspector versus the next.
MAKE SURE YOUR FINANCING IS READY EARLY
Most lending institutions will grant you a pre-approval good for 180 days. When building your new home, the process can take between 4-6 months to complete. During this time, you may completely forget about your financing. To ensure that there are no delays with closing, be sure that your mortgage professional has all the information they need to complete the financing on your new home at least a month in advance. You will also want to re-iterate with them your closing date to ensure there is no mis-communication. You may not be able to complete your financing in full a month early, but you can at least make sure you get them all the information they need in advance to ensure a smooth, stress-free transaction.
MAKE SURE YOUR FINAL WALKTHROUGH IS A FINAL WALKTHROUGH
Within two weeks from closing on your wonderful new home, your builder's salesperson will schedule with you a meeting with your home warranty representative and a final walkthrough on your home. This is thetime for you to investigate your home, and point out any cosmetic and functional defects in the entire home that you self-discover. You will probably be handed blue tape, and asked to tape all the problems you find in your home – from paint being accidentally applied to unintended surfaces to missing paint all-together.
At this time, you want to be sure that you address all the issues you have with your home, and be sure to make sure that the appropriate actions are being taken to ensure you are satisfied with the final condition of your home. Do not accept your home and close if there are still issues that have not been addressed. Do not rely on a builder representative's promise that a certain item will be fixed before you move in. You are at the final stage of the building process – make sure that it is in fact final and that you are 110% comfortable with the final outcome of your home and are ready to close and take possession.
The above guidelines have been a derived through personal experience with my clients purchasing a new home. If you are wanting to make sure that your new home purchase is one void of stress, confusion, frustration and anger, be sure to take the above precautions with the assistance of your real estate agent on the purchase of your new construction. Doing so will enable you to have the ability to sleep comfortably at night; this peace of mind is priceless.
FIND NEW CONSTRUCTION HOMES IN TAMPA BAY:
Pinellas County New Construction
Pasco County New Construction
Hillsborough County New Construction
Hernando County New Construction