Moving to Tampa Bay And Questions You Might Have
Posted by Lipply Real Estate on Thursday, March 2, 2023 at 1:13 PM
By Lipply Real Estate / March 2, 2023
Comment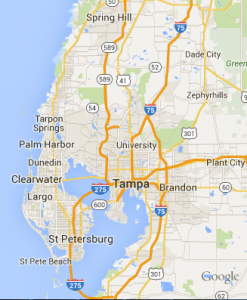 Florida's Suncoast is where you will find the picturesque beachfront communities of Tampa, Clearwater, and St. Petersburg. It isn't unusual for this trio of pristine coastal real estate to be referred to as one area. In fact, the combination of these municipalities, and their proximity to the bay, is more commonly knows as: "The Tampa Bay Area".
The treasure-trio of Tampa – St. Pete – Clearwater share in having award-winning gemstones like sandy, premier beaches and plenty of water related recreational activities. But each city also has its own eclectic flavor that is reflected throughout the various neighborhoods that exist in these towns, and also via the vibrant residents living there.
TAMPA
Tampa, as previously mentioned, is situated near the western coast of Florida. The city of Tampa is located in Hillsborough County and serves as Hillsborough's county seat. Tampa is bordered by the waters of Old Tampa Bay, and Hillsborough Bay, which converge, forming "Tampa Bay," as it flows towards the Gulf of Mexico. Tampa consists of approximately 112 miles of exquisitely beautiful land and 58 miles of the purest water.
Tampa has world famous attractions such as: South Tampa's Hyde Park, with upscale shops, theaters, and restaurants. The Seminole Gaming Palace: A casino located on the Seminole Indian Reservation. The Tampa Grand Prix: An entertainment complex with two race tracks, a game room, and two separate 18-hole miniature golf courses. These and other attractions help to fuel Tampa's economy.
EMPLOYMENT
Employment in Tampa is primarily in the tourism and services industries, although more and more high tech companies are relocating their headquarters here. New homes in the area can be found starting around $250,000. Condos are plentiful in Tampa and prices are reasonable and negotiable. Tampa has many golf course communities and large luxury home sites too.
CLEARWATER
West of Tampa is the city of Clearwater, located in Pinellas County. Clearwater is the county seat of Pinellas County and is comprised of 38 miles of land and 12 miles of water. Clearwater is home to two of the nation's top beaches, Clearwater Beach and Sand Key Beach. Clearwater, Florida is steeped in history dating back to the native peoples that inhabited this extraordinarily, beautiful peninsula located on Florida's western coast, and the Spanish explorers who first encountered them in their world explorations.
Employment in Clearwater is bright with many high tech jobs available. The education, healthcare, and manufacturing industries also fuel this cities economy. Small condo prices begin around $50,000 and small single family homes start at roughly $120,000 and can go up into the millions for large estate size waterfront property. The medium home price currently is about $175,000. There are many fantastic properties available in Clearwater for first time home buyers, those relocating from the north or for anyone wanting to upgrade their lifestyle. The cost of living is estimated to be some 5% less than the national average for costs of living.
ST. PETERSBURG
St. Petersburg, also located in Pinellas County, Florida is most often referred to by its shorter moniker: St. Pete. This city has approximately 59 miles of premium land and about 73 miles of water. The buildings throughout this city display some of the most spectacularly detailed architecture and craftsmanship to be found anywhere else. Downtown's waterfront not only adds charm to this city, it is where you can board a boat to take in some dolphin watching for a fun-filled day. Tourism, education, and healthcare are just some of the employment opportunities in St. Pete. New homes and condos can be found starting at just over $70,000 depending on the area. There are many luxurious waterfront homes in St. Pete and many retirement areas as well.
The whole of Tampa Bay is well served by the world-class air transportation found at Tampa International, and Clearwater / St. Pete Airports. Railways, bridges, and roadways also serve residents and tourist.
The trio of Tampa, Clearwater, and St. Petersburg with its combined pristine coastlines, sandy beaches, and the infusion of each city's own unique flavors, creates a treasure chest of gemstones that sparkle brilliantly under Florida's sun-kissed, semi-tropical horizon.