Home Staging tips and tricks for selling your home.
Posted by Lipply Real Estate on Monday, February 21, 2022 at 11:58 AM
By Lipply Real Estate / February 21, 2022
Comment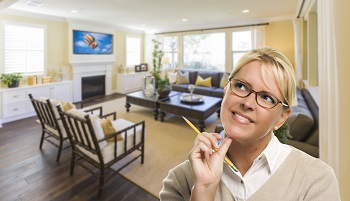 Home staging has become a trend in the real estate industry and many professionals believe it helps sell a property. Home stagers come in and with a keen eye attempt to highlight the positives of your home and downplay the negatives while trying to appeal to a wide range of buyers and a broad range of tastes. Costs range anywhere from $100 to well over $2000; depending on whether you just take the suggestions or whether you hire them to do the work. But what if you can't afford to pay a professional Home stager? You can do great job handling the project as a DIY otherwise known as "do it yourself".
QUICK TIPS
Start simple. Whether you're going to call the professionals or do it yourself, clear the clutter! You've decided to sell, which means you are moving. Start packing up excess decor and family photos first.
Professional home stagers don't just focus on the inside of the home. Curb appeal is still one of the most important aspects of preparing your home for sale, so don't overlook it. You must get them at the street level if you want to get them into your home.
EXTERIOR HOME STAGING
The grass. It needs to be green, healthy, and neatly trimmed frequently. If there are areas that are dead, replace them about 1 – 2 months before listing your home. You can buy individual sod pieces very inexpensively.
The landscape. Is it overgrown? Remove any plants that have outgrown their space, don't just cut them back. Replace with something new and add new mulch. Vary the color from dark green to lighter green and add just a splash of perennial color. If your trees are blocking your house have them trimmed.
The house paint. How long has it been since the house was painted? If just a few years then touch up the trim, the garage doors, and the front door. If any longer than about 7 years have the entire house repainted.
Add a decorative wreath and new welcome mat and possibly a basket with colorful flowering annuals.text
Just when you thought that the outside was a lot of work it is time to start on the inside. The way you live in your house is much different than the way you sell it. Clean, organized, and clutter free goes without saying so let's focus a few common turns offs.
INTERIOR HOME STAGING
The furniture. Too much furniture can distract buyers. Remove something from each room and experiment with furniture placement.
The colors. Not everyone likes red, blue or purple; in fact many people hate strong colors. Repaint with soft neutrals or even white so that they appeal to both men and women.
The lighting. Many people miss this step. Be sure your home has adequate lighting. Don't let a buyer walk into a dark house. Keep blinds open and all lights turned on for showings.
Kids and pets. We love our kids and pets but your potential buyer doesn't really need to know about them. Remove pictures, toys, and pet dishes from sight. They add nothing to the appeal of your home.
Personal items. Remove all personal items from countertops and tables and keep them stored. Replace with decorative items instead.
Home staging is a way to enhance the beauty of your home and to get the attention of a potential buyer. Keep in mind that if there is something wrong with your home you must disclose it.
Bob Lipply, Broker / Owner
Lipply Real Estate
727 459 7290