2023 Real Estate Market Outlook
Posted by Bob Lipply on Wednesday, March 15, 2023 at 2:51:24 PM
By Bob Lipply / March 15, 2023
Comment
The 2023 spring selling season is underway for the U.S. housing market. Here are five themes that we believe will define this year's real estate outlook. Courtesy of Russell Price, CFA | Chief Economist – Ameriprise Financial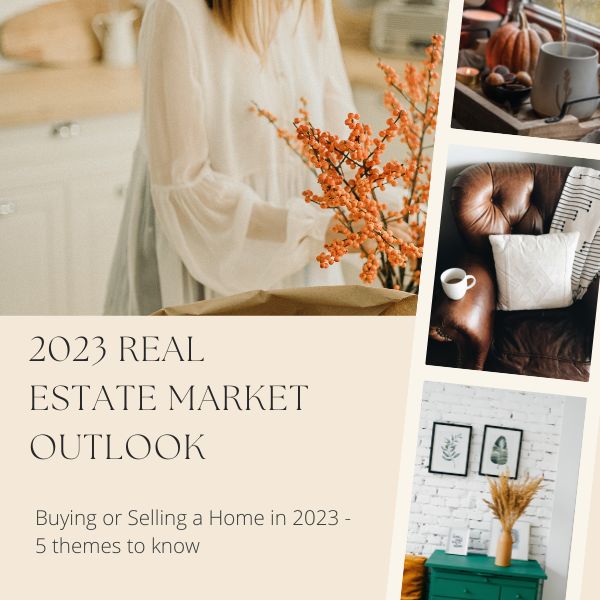 1. Direction of mortgage rates will dominate this year's outlook
Higher mortgage rates have understandably quelled the enthusiasm of potential home buyers. Bottom line: The housing market is perhaps the economic sector that is most sensitive to rising interest rates. As mortgage rates rise and fall, expect to see an inverse correlation with demand.
2. After years of a seller's market, it's now a more even playing field
In 2023, the market will be influenced by dynamics that have not been seen in many years. The balance of power between buyers and sellers is likewise murky. Potential buyers are seeking price cuts to offset sharply higher mortgage borrowing costs, while potential sellers look to further leverage the market's tight supply by keeping prices high. Bottom line: Neither buyers nor sellers are in a particularly strong negotiating position as much higher mortgage rates dilute the advantage of limited market availability.
3. Prices will likely decline – but it's not a housing crash redo
We currently believe the national median price of existing homes could decline by 4% to 8% in 2023 as higher interest rates reduce demand and weaken seller pricing power. For its part, the National Association of Realtors (NAR) forecasts existing home sales to be down about 7% in 2023 with median home prices about flat with year-ago levels. The Association predicts the 30-year mortgage rate to average 5.7% for the year. Looking out to 2024, the NAR forecasts a sales rebound of 10% and 5% increase in home prices. Bottom line: We see national average existing home prices to be moderately lower, but factors such as limited housing supply make a repeat of the 2008 housing crash unlikely.
Annual housing market forecast

Year

Unit sales

Home price

Dollar volume

2019
0.0%
+4.9%
+5%
2020
+5.6%
+9.1%
+15%
2021
+8.5%
+16.9%
+25%
2022 estimate
-16.2%
+9.6%
-6%
2023 forecast
-7%
+0%
-7%
2024 forecast
+10%
+5%
+15%
Source: National Association of Realtors
These figures are shown for illustrative purposes only.
4. Limited housing stock continues to provide an edge
Such a sharp decline in sales might lead one to worry about another housing market crash, similar to that experienced after the Financial Crisis of 2007-'08. The defining difference between the current situation and the 2008-12 housing crash, is availability. From 2008 to 2012, there was surplus of homes available for sale in the U.S., which magnified price declines across the market. Today, the existing home market faces a near-historic lack of supply, a situation that is offering support to prices.
As shown in the chart below, the number of existing homes available for sale is currently close to all-time lows for the 41 years of available data. Today's availability, 860,000 homes for sale in December 2022 (as per the NAR), is about half the level seen in December 1982 (of 1.9 million). Meanwhile, over that same period, the U.S. population has grown by approximately 43%, according to the Census Department.
Bottom line: The U.S. population is up while housing availability is down.
Source: National Association of Realtors
5. Housing is a local market
It's an old and well-worn saying that housing is always a "local market," meaning local market dynamics often override broader considerations. But it's a fact worth repeating as we move into the 2023 spring selling season.
Bottom line: While national housing market data can offer helpful insight into the broader macroeconomic factors at play, local and regional dynamics are also key drivers of the direction of home prices.
Bottom line: The 2023 outlook
Overall, we believe this year's housing market looks likely to be defined by sharply higher mortgage costs, a limited number of homes available for purchase, and in most places, moderately lower prices.